We're pleased to announce another of our great guest stars for season two: comedian Dave Callan! Dave will appear in this season's historical episode, but that's all we'll say. No spoilers!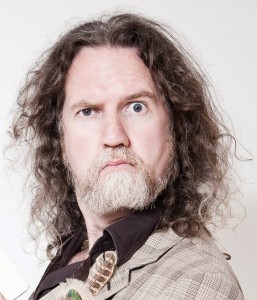 Fondly remembered for his long stint as "the beardy one with the beautiful accent" on Australian variety shows Rove and Rove Live, Callan is best known as a Triple J DJ – he presents "The Graveyard Shift" from 1 AM on Sundays – and one of Melbourne's favourite comedians. He's often on the telly with appearances on Spicks and Specks, the Comedy Festival Gala and Good News Week, as well as being a regular game reviewer on ABC2's Good Game. He's performed live comedy at the Edinburgh Fringe and toured Britain, South East Asia, the U.S. and even Hobart.
In recent years he's departed from regular stand-up to embrace his other love, one he has in common with our mascot, the bilby: dance! His 2014 show A Little Less Conversation was such a hit he's followed it up with this year's A Little Less Conversation 2: A Little More Less Conversation, playing at Trades Hall at 9:45 PM (8:45 on Sundays) until the festival ends on April 19.
Dave is not a stranger to voice work; he's fondly remembered for his segment on Rove Live, "Words That Sound Better When Said By Dave" (for which a Facebook fan page still exists!), and in 2011 played the role of Fergal, a Sea Cucumber who runs an Irish Pub, in the adult animated web series Mollusks, alongside a stellar cast of Sean Micallef, Roz Hammond and Bob Franklin.
So let's celebrate that beautiful voice with a clip of Dave dancing!
If you want to make sure Dave Callan has his chance to shine in Night Terrace, why not go to Kickstarter right now and become a backer? There are many wonderful rewards on offer, and you won't have to watch Dave dance again.