The occupants of Night Terrace – an otherwise ordinary suburban terrace house which travels randomly through space and time – are hearing voices! Or at least laughter. And applause. It seems semi-retired adventure scientist Anastasia Black and her companions have landed in a place where the normal rules of logic have been replaced by an ever-increasing spiral of hilarious misunderstandings. Who are these invisible watchers? How does the mysterious little girl fit in? And just what is a "disposable yacht tycoon"?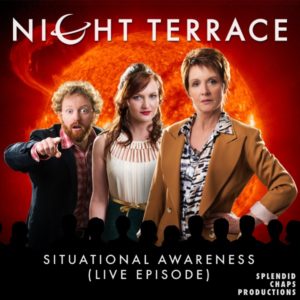 Situational Awareness is a special episode of Night Terrace, recorded live in front of an audience – and until now, it was only available to backers of our season two Kickstarter campaign. But in the spirit of the Christmas special, it's set to launch this Friday, December 16 – and you can preorder it now!
Set sometime during the show's second season, it features the core cast of Jackie Woodburne (Neighbours), Ben McKenzie and Petra Elliott, as well as guest stars Tegan Higginbotham (Whose Line Is It Anyway? Australia), Steven Gates (Tripod), Amanda Buckley (Impromptunes, Impro Melbourne) and Eryn Saunders (Sonnigsburg).
You can score all 40 minutes of live-recorded fun, complete with a laugh track supplied by our wonderful audience, for just $5 – and it's available for preorder via Gumroad and Bandcamp. Both platforms offer gift purchases, so if you don't like cluttering up people's houses with new objects, why not give them the gift of time travel comedy instead?